This Winter No.11 Soy Candle makes the perfect holiday winter Christmas gift for anyone including yourself!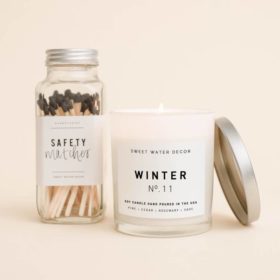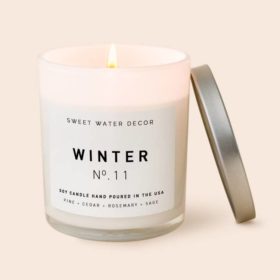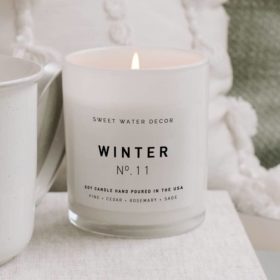 This Winter No.11 Soy Candle not only smells absolutely amazing but it is such a cute design. Less is more with this simple design and we love it! This candle is certainly on-trend. Who doesn't want their home to smell like a forest?! Especially in the gloomy winter season where we can't spend much time in the good outdoors.
Infused with natural essential oils: fir needle, eucalyptus, orange, cedar leaf
SCENT NOTES:
+ Top: Pine, Sage
+ Middle: Rosemary, Eucalyptus
+ Base: Cedar
CANDLE INFO:
+ 11oz White Candle Jar with Brushed Silver Lid
+ Jar Size: 3 x 3 x 3.5″
+ Burn Time: 60+ Hours
+ Wick: Cotton (Lead and Zinc Free)
+ Wax: 100% Natural Soy Blend Made in Pennsylvania, USA
+ Premium Fragrance Oil + Gluten Free, Phthalate Free, Non-Toxic, Cruelty Free
+ Made in the USA | Hand-poured in Pittsburgh, PA
+ Style No. C011W
CANDLE CARE:
+ Always Trim Your Wick to 1/4″ Before Candle is Lit Each Time to Avoid Any Soot
+ Burn Candle So Wax Pool Reaches the Jar Edge Each Time to Prevent Wax Tunneling
+ Burn Candle No More Than 4 Hours at a Time
+ Keep Candle Away From Fans, Open Windows, Hot Surfaces, Children, Pets
+ Never Leave a Burning Candle Unattended
Weight
1 lb
Thank you for supporting our small business, Primp & Proper. We appreciate your order and hope you enjoy this product as much as we do! Our retail collection is handpicked by Faye Smith Agency's top and most experienced makeup and hair artists. Our products have been tried, tested and compared to many others and we think this product is the best for its purpose! If you have any questions, feel free to fire us a DM on Instagram! We are always happy to help.