This Pink Eyelash Coffee Mug makes the perfect gift for any lash lover, including yourself!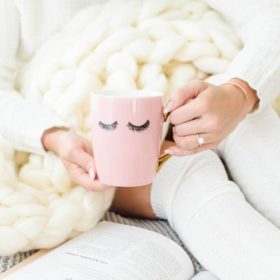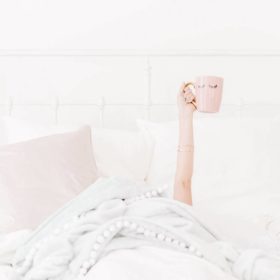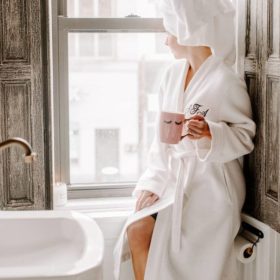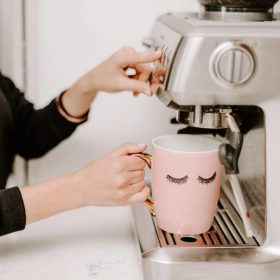 Yes, we own a lash salon in Vancouver, BC, Canada so naturally, we love lashes and yes, we love this mug! But who doesn't love a super cute Pink Eyelash Coffee Mug?! Just look how amazing this lady looks sipping her morning drink and hanging out in her most comfortable robe! Whether you are looking for the perfect morning coffee Instagram photograph, or just looking to buy a girlie friend a super cute gift, this mug is a perfect choice! We absolutely love the gold handle. Gold accents are so in this year! The size of the mug is perfect for coffee, tea or even soup. Heck, you could even drink your water out of it if you like, it is just so super cute!
Our Pink Eyelashes Coffee Mug will enhance your coffee drinking experience with its chic + stylish design. Sip your favourite coffee or tea in your new high-end luxury drinkware and enjoy chic lashes hand-drawn by our Owner, Melissa, that grace the front and back of this light pink fine bone china mug.
Details:
+ 16oz Fine Bone China
+ Real Gold Embellished Handle
+ Design
+ Hand Lettered Design On Both Sides
+ Microwave Safe
+ Hand Wash Recommended
Weight
1 lb
Thank you for supporting our small business, Primp & Proper. We appreciate your order and hope you enjoy this product as much as we do! Our retail collection is hand picked by Faye Smith Agency's top and most experienced makeup and hair artists. Our products have been tried, tested and compared to many others and we think this product is the best for it's purpose! If you have any questions, feel free to fire us a DM on Instagram! We are always happy to help.
@fayesmithmakeup
@fayesmithagency
@primpandpropervancouver