Make this Fall a season of bold and beautiful eyebrows with Microblading and Powder Brow Services at Primp & Proper. Keep reading to learn more and don't miss the discount inside 😉
You may have been hearing the terms Microblading Brows and Powder Brows (also referred to as Shading) circling around and wondering what the hype is all about. What if we told you that you get to wake up with your dream brows EVERY morning without having to do a touch up for a whole year?
We have two talented technicians, Serena and River, that offer both services at Primp & Proper. As a client you can choose from either Microblading or Powder Brows or do a combination of both services for a bolder fuller look.
Cover photo: Microblading & Shading by Serena
So Here's What You Need to Know
Both Microblading and Powder Brow services are semi-permanent makeup services that are done using a hand held machine that applies pigment into the surface level of the skin ONLY, unlike a permanent tattoo that goes below the epidermal layers. This results in long lasting eyebrows that will only require annual touch ups to maintain the look.
What is the Difference Between Microblading and Powder Brows?
The main difference between the two services is the technique. Microblading applies individual hair strokes that result in a more natural looking brow. It is a great option for those who have thinner or sparse eyebrows looking for a fuller natural look.
Powder/Shading brows are applied in solid brush strokes that reflect a tinted brow. This is a great option for those who would like to fill in any gaps or sparse eyebrows to achieve a fuller looking brow.
These services can also be combined for the best of both!
What to Expect
The best part of these services is that you get to wake up with your dream brows without having to worry about filling them in, touching up, washing them off, or smudging them. Once you consult and meet with your technician, together you get to map out the perfect eyebrows that are best suited for you and your face. So that means you get matched with the perfect shape and shade of eyebrows. The first 28 days your eyebrows will a bit bolder then after a month they will fade into a more natural look that won't require any touch ups for a year!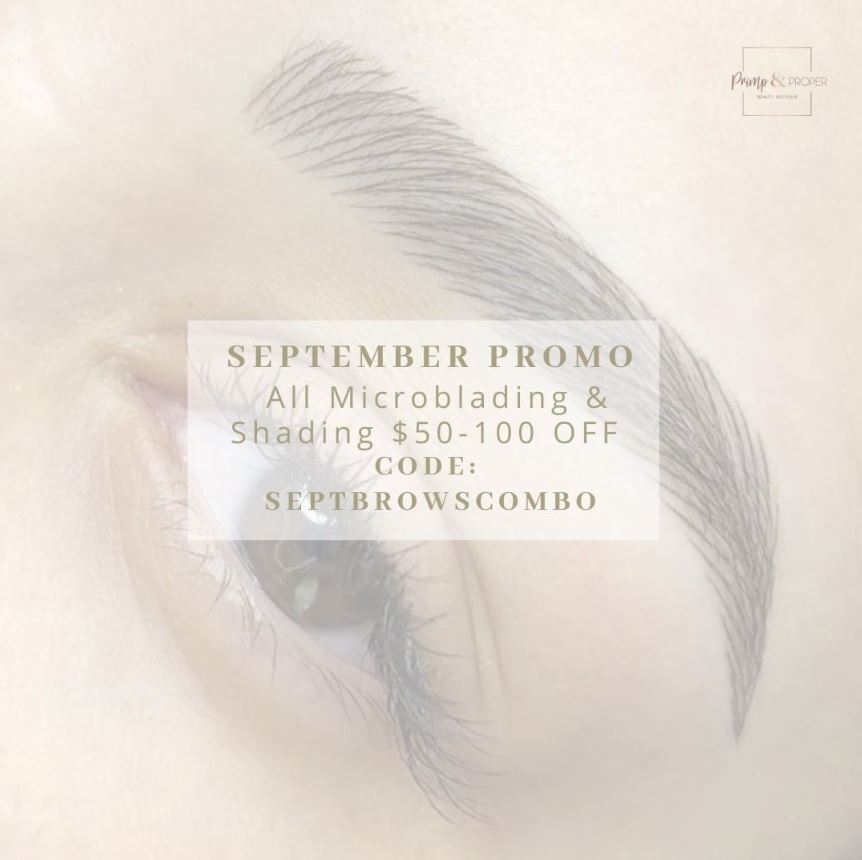 Save up to a $100 with our September Promotion
There's still time! If you missed our newsletter and instagram posts, don't worry you still got a week to take advantage of our Microblading and Powder Brows Promotion!
Save a 100$ by booking Microblading AND Shading Service combo
apply code: SEPTBROWSCOMBO
Save 50$ by booking Microblading OR Shading (Powder Brows) Service
apply code: SEPTBROWS
Get your brows done with our talented techs, Serena or River!
 Appointment includes consultation, initial appointment and 6-12 week touch-up.
Valid for all of 
September
. Appointments can be booked at any time.
Want more information? Book a free consultation here —>