The product launch we've been waiting for is finally here! We are loving the new Adoreyes Eyelash Enhancing Serum and know you will too. 
After searching far and wide to find a replacement for our much loved Eyenvy lash growth serum that was sadly discontinued, we have finally found the one. Eyenvy was a topseller at
Primp and Proper
and we knew our loyal clients would need a replacement after their favorite product would be down to a drop. We also knew that we could not replace it without doing our research to find something equally amazing if not better.
We have carefully selected a new eyelash enhancing serum,
Adoreyes, and we can confidently say we know you will 'adore' it too. 😉
Why we love it
At Primp and Proper, we find it important to support locally made Canadian brands that are made out of quality ingredients that don't cut corners and value ethically made products. Adoreyes Eyelash Enhancing Serum created an Award-Winning Formula that is comprised of high performance peptides that naturally grow your lashes without any harsh chemicals. The products are also made in Canada so it seemed like a match made in heaven to stock our shelves with.
Key Features include (taken from Adoreyes website):
The first Award-winning Multi-peptide formula acting on all three growth stages
Nourishing Hydro & Vitamin Boost Complex
Retention Maintaining DHT Blockers
Repairing and hair shielding Amino Acids
Water-based & oil-free formula (suitable for eyelash extensions and permanent makeup)
Gentle formula free from prostaglandin analogues, parabens, phthalates, sulfates, fragrance and toxins
Noticeable results within 4-6 weeks with full improvement in 3 months
PETA-certified Cruelty-free & Vegan
Gold Winner in the category of "The Most Innovative Beauty Product" in the Global Makeup Awards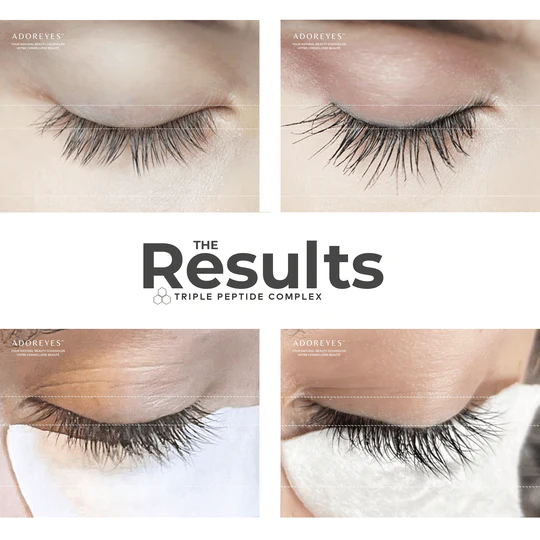 The Results speak for themselves
Ingredients are important but results matter most! When applied regularly (recommended 1-2 times daily), you will see results as early as 4 weeks and within 3 months people will be asking you if you've got lash extensions. The best part is that your own natural lashes will look fuller, longer, and thicker. Top the lashes with a lash tint for the full effects and you'll be set with no mascara needed.
Common questions answered:
Adoreyes is safe for those who have lash extensions or lash lifts and tints
Safe to use after chemotherapy treatments
Contact lens friendly
The serum can also be applied onto lower lashes
One tube of Adoreyes Eyelash Enhancings serum will last approximately 3 months if used as directed
It is now available for purchase at our shop, Primp and Proper. Order online or swing by the shop to get yours now. Share your lash stories with us. We can't wait to see you flutter your natural beauties.
shop now