The BeaYOUtiful Foundation is hosting their first fundraiser EMPOWER. This is a digital event which includes not only a live streamed night of guest speakers and performers, but also at-home charcuterie boards and cocktail making kits for guests!
Enjoy an experiential box filled with a home delivered charcuterie board, dessert, cocktail making kit & flower bouquet.
Enjoy a live-streamed event from your own home, featuring live music, key note speakers & an interactive cocktail making session.
Bid on a selection of incredible auction items from your phone or computer, which are then delivered to your door. Primp & Proper and Faye Smith Agency have some goodies up for grabs!
Enjoy the fundraiser safely from your home & with your loved ones, making memories while helping contribute to our cause!
The purpose of the BeaYOUtiful
Foundation is to instil the value of
self-worth and self-love in young
women, inspiring them to build
confidence through acts of passion,
kindness, community and
connection.
H eal her self-image.
E mbrace inner beauty and strength.
R ealize her worth.
50% OF GIRLS AGE 6 – 12 YEARS OLD ARE DISSATISFIED WITH THEIR BODIES. BEAYOUTIFUL WANTS TO CHANGE THAT.
1,600+ GIRLS HAVE PARTICIPATED IN THE BEAYOUTIFUL CONFIDENCE PROGRAMS, SELF-ESTEEM WORKSHOPS AND CONFERENCES.
Founded in 2013 in Surrey BC, the core goal of the BeaYOUtiful Foundation is to help young women build greater self-esteem by instilling confidence in them through mentorship and education. Open to those who identify as female between the ages of 8-14, BeaYOUtiful Foundation provides inspirational 6 week programs, single day workshops and large scale conferences across Canada. Girls take part in open floor discussions, variations of artistic expression, media literacy activities, and positive body image workshops. With over 130 female mentors on the team, BeaYOUtiful Foundation is inspiring the women of the future, to be strong, fearless, and confident leaders.
100% of the funds raised at the EMPOWER Virtual Cocktail Event will go to the BeaYOUtiful Foundation.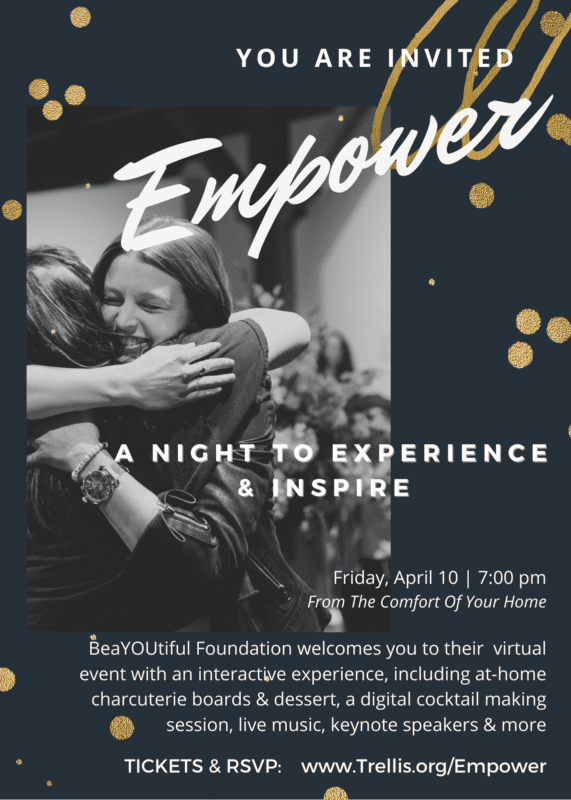 On March 11th 2021 the EMPOWER silent auction will go live! Primp & Proper, Faye Smith Agency and many more local businesses have come together to offer you a wide range of services and experiences for you to bid on. 100% of the proceeds from the EMPOWER silent auction will go to the BeaYOUtiful Foundation.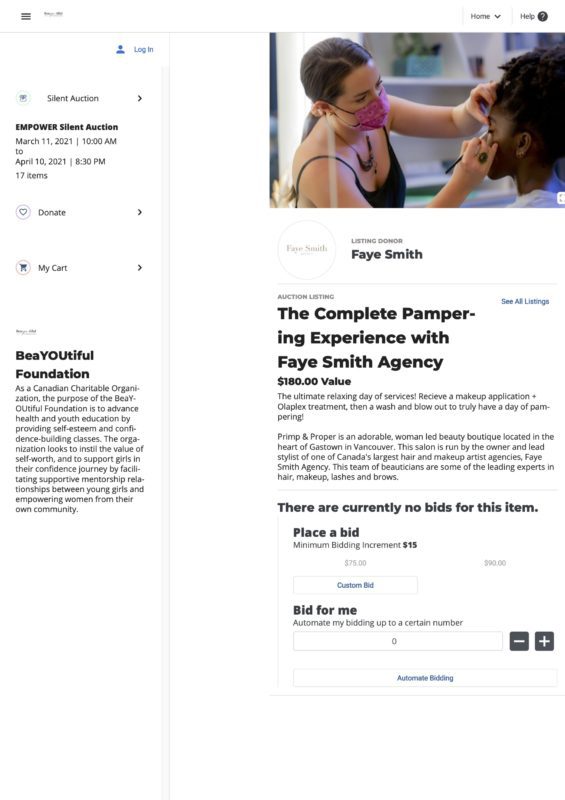 Thank you for your contribution and support.
Faye Smith
Owner & Lead Stylist at Canada's largest hair and makeup artist agency, Faye Smith Agency
Owner of Vancouver's Gastown Beauty Salon Primp & Proper
778-788-3552
[email protected]